Divorce is really hard for a little toddler to understand, and it is particularly challenging to go over this trauma as an adult, while trying to support your little one emotionally.
You may notice that your toddler starts throwing tantrums, attempting to express their feelings, which is normal and expected when going through difficult life moments and transitions.
In this article, I'm going to share a few strategies to help you navigate divorce with your little ones and tools you can use to ease the pain.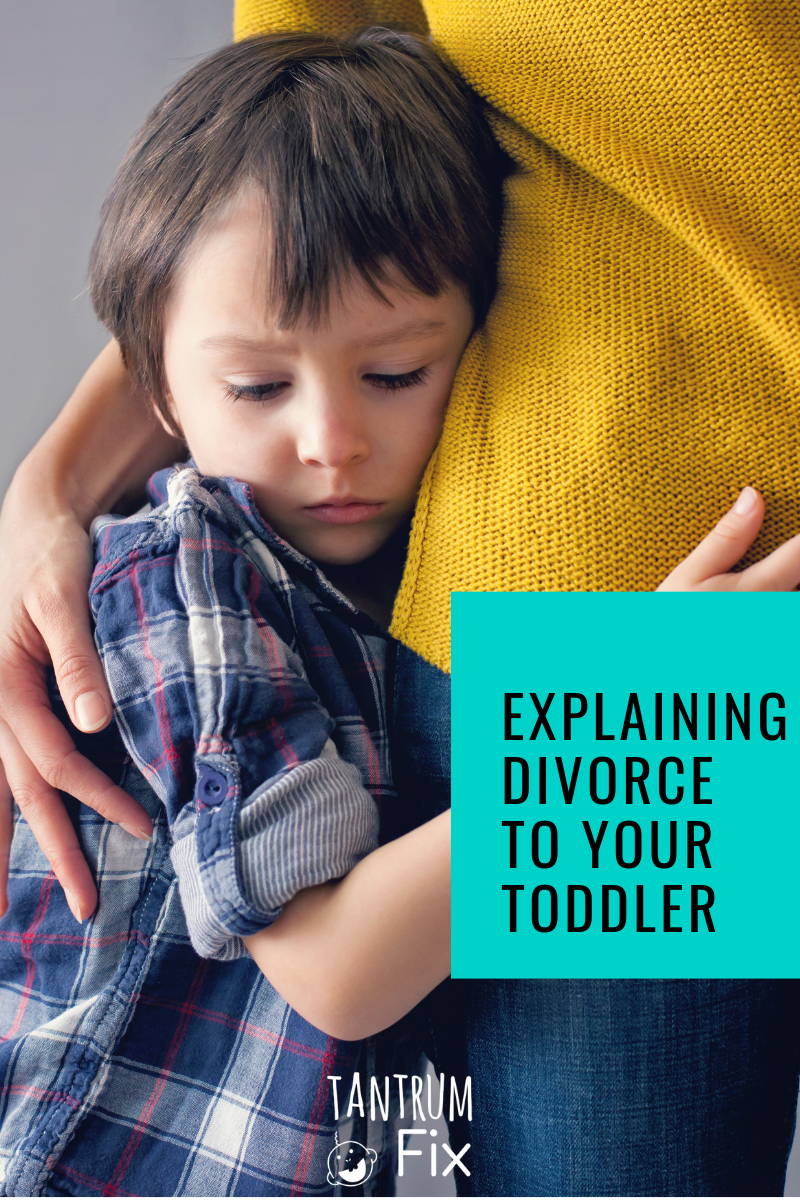 Books that help explain divorce to children
The easiest way to explain difficult and new concepts to a young child is through books that are specially designed for this very purpose. I recommend you read these books at nighttime, as many times as you need. Most toddlers will only assimilate new concepts after hearing a book over and over again.
Here's a list of books that do a really good job at explaining divorce for little children:
Role Play
Using dolls, or special stuffed animals, it is really helpful to role play the situation to your little one, shining a positive light into the situation. Highlight how your child's teddy now has two homes, that he's so loved, how this is normal, etc.
Even if your child seems to young to really understand, this role play scenario will definitely help introduce some of the main concepts we want to explain, in a playful, positive way.
A very special backpack
If your little one will be alternating homes between you and your former partner, it is important to help your child pack a very special backpack, filled with comforting items, aside from their main necessities. I recommend you pack this bag with your child and you make it an exciting project, so they know the tools they have when they are at their other home to cope with feeling sad, missing you, or simply feeling big emotions.
Here are some ideas to pack:
A special stuffy or lovey
A calming bottle (the one included in our Tantrum Fix kit is especially magical) or our travel version. A calming bottle offers an anchor visual for your child to focus their mind and calm down during a big emotional outburst. This one-minute liquid sensory timer will mesmerize and capture your child's attention, providing a calming activity that aids self-regulation.
One of the books recommended above
A family photo
A special soft blanket or pillow to help with sleep
If faith is a part of your life, a symbol, medallion or special object that your little one can pray with.
What to avoid
For small children and toddlers, it is a good idea to keep the conversation simple and not to go into too many details. You may have that conversation with your little one once they are older and can understand.
It is ok to show vulnerability. Sometimes as parents we try to stay strong and we don't allow our children to see us when we are down. But this is a really challenging time for you, and it is ok to show it if you feel it is appropriate.
Depending on your circumstances, maybe your divorce got really ugly, hurtful words were said, and disappointing actions happened... just try your very best not to share these details with your children, at least when they are little.
Getting help
I strongly recommend you seek for help for yourself, and if the suggestions above don't do the trick with your little one, consider getting a few sessions with a child therapist, to help you navigate your very unique situation. If therapy is out of reach for you, consider online services that normally offer lower rates, like Better Help and Talk Space.
Tantrums caused by divorce
It is very likely that your child starts tantruming when a difficult situation like a divorce happens to your family.
Here's what to do:
Encourage emotional language. Often times as parents we focus on teaching our toddlers the colors, ABC's, parts of the body, etc. but we forget that an essential part of their language is actually emotions. Giving the right words to your child and encouraging using language instead of screaming and tantrums will go a long way. The easiest way to teach emotions is by using a picture chart. You can either create your own, by drawing common emotions like: lonely, sad, hungry, tired, or you can even create a photo album on your phone, by acting each emotion yourself or having your child act them, and then practicing when they are calm and happy.
Read children's books about toddler tantrums, especially those who teach about coping mechanisms. Here is a really good list to get started:

Jilly's Terrible Temper Tantrums: And How She Outgrew Them, by Martha Heineman Pieper.
Listening to My Body: A guide to helping kids understand the connection between their sensations (what the heck are those?) and feelings so that they can get better at figuring out what they need, by Gabi Garcia.
Cool Down and Work Through Anger (Learning to Get Along®), by Cheri J. Meiners M.Ed.
Words Are Not for Hurting (Ages 4-7) (Best Behavior Series) by Elizabeth Verdick
Our own Tantrum Fix book - included with our complete Tantrum Fix kit.
Summary
In conclusion, divorce is really hard. If you are going through it, know that there are simple strategies to help your little one cope with it in a healthy way:
By reading books especially designed to explain divorce to young toddlers.
By using role-playing
By preparing a very special backpack
By encouraging the development of emotional language and preventing tantrums.
I really hope you get over this soon and you get to reinvent your life in a very positive way. The best is yet to come.